/

Qazaqstan Investment Corporation signs agreement to invest in Southeast Asia Fund of international investment firm TVM Capital Healthcare
Qazaqstan Investment Corporation signs agreement to invest in Southeast Asia Fund of international investment firm TVM Capital Healthcare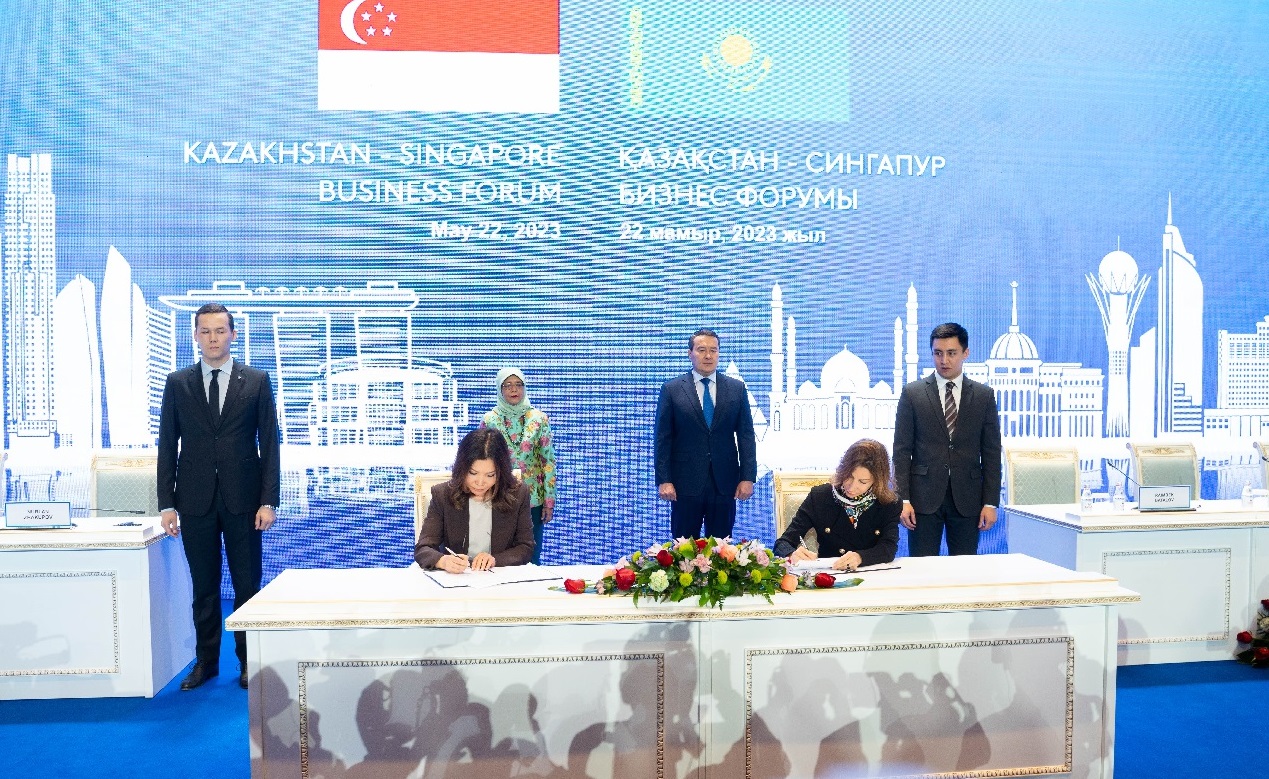 Qazaqstan Investment Corporation JSC (QIC) announced today the signing of the Term Sheet on its participation in the TVM Healthcare SEA Fund of the global private equity firm TVM Capital Healthcare, headquartered in Singapore and Dubai. The agreement was signed by Ainur Kuatova, CEO of QIC, and Hoda Abou-Jamra, Founding Partner and Managing Director SEA, TVM Capital Healthcare, at the event of the Kazakhstan-Singapore Business Forum in Astana on May 22, 2023. The President of the Republic of Singapore - Halima Yakob, and the Prime Minister of the Republic of Kazakhstan, Alikhan Smailov, were present at the ceremony.
By participating in the TVM Healthcare SEA Fund, QIC is piloting a support mechanism for Kazakhstani healthcare startups, which will provide them expedite access to one of the largest Asian markets by cooperating with TVM Capital Healthcare and its SEA Fund portfolio companies. Ultimately, the cooperation with TVM Capital Healthcare, within the investment activities of the new fund, will help to create favorable conditions for the development of local high-tech healthcare projects and will positively affect the growth of cross-country investment flows. One goal of the cooperation for QIC is to build an attractive eco-system of funds and partners to create a private equity healthcare fund focused on Kazakhstan and Central Asia region in the near future.
TVM Capital Healthcare focuses on investments in highly specialized clinics and clinic chains in fields such as oncology, cardiology, diagnostics and imaging, fertility and women's' health, long-term care, post-acute care and rehabilitation, as well as primary care, home care and disease management. A substantial effort is put on sourcing enabling platform technologies that help to improve the business models of such companies by improving access to quality care and enhance portfolio companies' sustainability performance.
About Qazaqstan Investment Corporation (QIC)
JSC "Qazaqstan Investment Corporation" is a fund of private equity funds, created to promote the sustainable development of the national economy. QIC's activities are aimed at creating a private equity infrastructure in Kazakhstan, attracting foreign investment in priority sectors of the economy, using leading international experience and transferring innovative knowledge and technologies.
For more info please visit: www.qic.kz
For media inquiries, please contact: Sholpan Dosmakhanbet, s.dosmakhanbet@qic.kz +7 775 120 30 10
About TVM Capital Healthcare: TVM Capital Healthcare is an emerging markets-focused healthcare private equity firm headquartered in Dubai and Singapore, with offices in Ho Chi Minh City, Riyadh, Munich and Boston. Since 35 years, the firm invests expansion and growth capital in healthcare companies with a focus on specialized and tech-enabled healthcare services, pharmaceutical manufacturing, medical devices, digital health solutions and platforms. The firm partners with local Middle Eastern and Southeast Asian management teams to build domestic or regional sector champions and selectively backs companies from Europe or North America for expansion into the firm's target geographies. TVM Capital Healthcare's investment and operating approach, combines strong commercial value creation and returns with responsible investing and a comprehensive ESG framework to build impactful, sustainable and well-governed companies, delivering excellent healthcare services, with continued growth and job creation, in a fair and diverse workplace. TVM Capital Healthcare is a U.N. PRI signatory since 2015, a longstanding member of GPCA, a member of 2X Global, a signatory of Ethical Principles in Healthcare (EPiHC) and Investors for Health (I4H), initiatives of the International Finance Corporation of the World Bank (IFC), promoting healthcare growth and ethical principles in healthcare to build transparent and resilient health systems. www.tvmcapitalhealthcare.com⁠